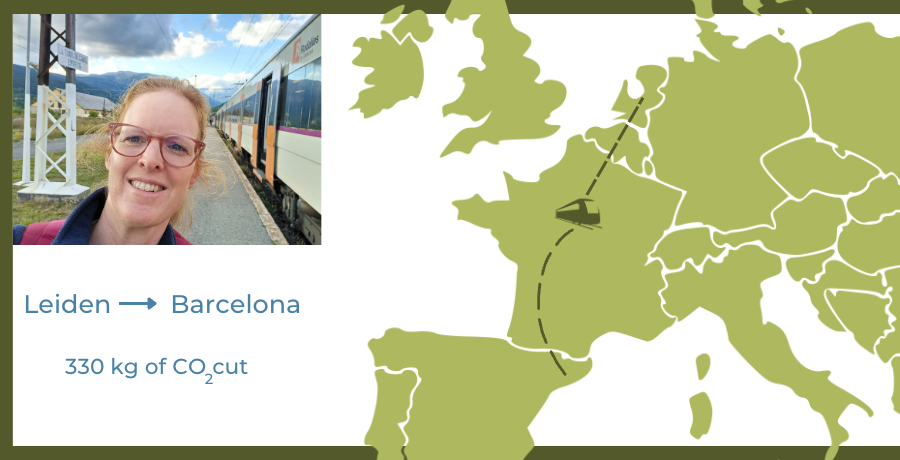 Starting point: Leiden, the Netherlands
Form of travel: Train
Hours of travel (for one direction): 14 hours (day train); 22 hours on the way back (night train)
Emissions cut (total): 330 kg
What did you do while traveling?

The hours on the train were great to catch up on reading, think through some ideas that had been lingering in my mind and clear up my inbox. Also, my itinerary was perfectly timed for a lovely lunch in Paris on a terrace opposite the beautiful Gare the Lyon. Finally, I was mesmerized by the amazing scenery of the coast line and lagoons in Southern France around sun set.
On the trip back I enjoyed the Spanish Pyrenees before falling asleep in a pretty comfortable, though shaky bed. In the morning. The lines for the metro tickets were impressively long but I caught my train in time and finished writing my report of the conference before I reached my home town.
What were some of the challenges you faced while organizing your trip, or that you encountered during travel?
Making our travel agent understand the need to go beyond what they consider ordinary to find the train ticket needed was a challenge. They even asked me why I wouldn't just take a flight, because that was easier (for them). I could have more efficiently booked the tickets myself but I made it a point that our travel agent would make the effort in order to create awareness on the need to make changes in all sectors.
A big challenge was the return ticket from Barcelona to the border town of La Tour de Carol. It could only be purchased on site in Barcelona, only at two particular ticket windows at the main train station and officially only on the day of departure. After having waited for 90 minutes in vain I was luckily able to persuade them to sell the ticket to me one day in advance.