Goal: Save 20 tonnes of CO2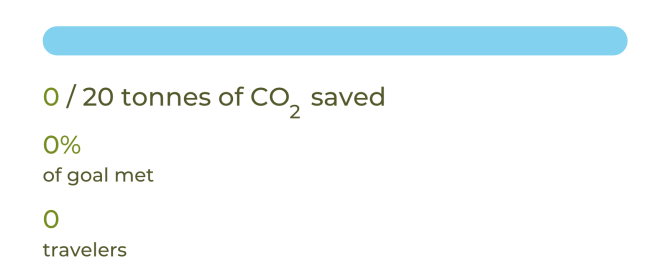 How can we achieve this together?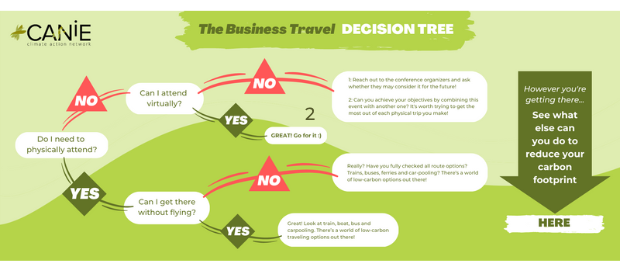 Join the #TravelwithCANIE movement!

HOW TO:
Calculate your airline, train and car travel emissions (in one click!)
Change your settings to include the climate factor in your emission calculations (there are clear instructions with images in the emissions reporting Google Form)
Subtract your new emission from your would-be emissions and voila, your emissions savings total

For the purposes of the #travel with CANIE project, we use the emissions calculator at ecopassenger.org.

We will share the total commitments as we receive them. Please complete this Google Form to receive your #TravelwithCANIE certificate after the conference!

Tips for the Trip
These websites may help you book your train trip to Rotterdam:
*CANIE is not affiliated with any of these companies or platforms, they are suggestions that have been checked and tested by CANIE members and other international educators. Please feel free to suggest others that you think would be useful for other #TravelwithCANIE community members

View traveler testimonials from 2022
Perks of Participation
Following the conference, we will provide participants of the #TravelWithCANIE initiative with a certificate outlining their contribution in reducing emissions to the total emissions reduction achieved as part of the conference. Share and encourage your colleagues to #TravelWithCANIE for their next event!
Every person who commits to reducing the CO2 emitted helps us get closer to the target. Help us reduce the emissions, one tonne at a time!

Impact Chart: Traveling to Rotterdam by Train
| | | | | | |
| --- | --- | --- | --- | --- | --- |
| City | kg CO2/person by Rail - 1 way | kg CO2/person by Plane - 1 way | Hours by Rail | Hours by Plane | Hours by Plane + to/from airport travel |
| Barcelona | 63 | 237 | 12h 00 | 2h 00 | 5h 00 |
| Basel | 26 | 129 | 7h 45 | 1h 15 | 4h 15 |
| Belgrade | 43 | 189 | 25h 00 | 2h 35 | 5h 35 |
| Berlin | 35 | 171 | 7h 00 | 1h 30 | 4h 30 |
| Bordeaux | 12 | 214 | 5h 15 | 1h 50 | 4h 50 |
| Bucharest | 110 | 514 | 36h 00 | 3h 00 | 6h 00 |
| Budapest | 51 | 231 | 15h 00 | 2h 10 | 5h 10 |
| Copenhagen | 39 | 228 | 14h 00 | 1h 20 | 4h 20 |
| Dublin | 23 | 85 | 12h 30 | 1h 40 | 4h 40 |
| Edinburgh | 50 | 184 | 10h 20 | 1h 25 | 4h 25 |
| Frankfurt | 18 | 135 | 4h 40 | 1h 15 | 4h 15 |
| Geneva | 29 | 178 | 6h 35 | 1h 30 | 4h 30 |
| Glasgow | 29 | 97 | 9h 20 | 1h 35 | 4h 35 |
| Gothenburg | 43 | 209 | 17h 30 | 1h 35 | 1h 35 |
| Hamburg | 22 | 123 | 5h 40 | 1h 05 | 4h 05 |
| Helsinki | 105 | 208 | 34h 00 | 2h 40 | 5h 40 |
| Liverpool | 30 | 142 | 8h 20 | 1h 20 | 4h 20 |
| London | 9 | 115 | 5h 10 | 1h 00 | 4h 00 |
| Luxembourg | 9 | 119 | 5h 00 | 1h 10 | 4h 10 |
| Milan | 28 | 210 | 10h 40 | 1h 40 | 4h 40 |
| Munich | 30 | 186 | 9h 05 | 1h 35 | 4h 35 |
| Nantes | 10 | 202 | 6h 00 | 1h 35 | 4h 35 |
| Oslo | 44 | 242 | 22h 20 | 1h 50 | 4h 50 |
| Paris | 11 | 125 | 2h 40 | 1h 15 | 4h 15 |
| Prague | 48 | 196 | 11h 45 | 1h 40 | 4h 40 |
| Rome | 54 | 269 | 14h 45 | 2h 20 | 5h 20 |
| Stockholm | 49 | 347 | 19h 00 | 2h 00 | 5h 00 |
| Vienna | 35 | 275 | 11h 00 | 1h 55 | 4h 55 |
| Warsaw | 81 | 235 | 12h 00 | 2h 15 | 5h 15 |
*Please consider the values generated by the Ecopassenger carbon calculator as estimates of the carbon emitted by various forms of travel. For the purposes of estimating carbon savings by switching your mode of travel to conferences, this calculator is considered sufficient. There are specific carbon calculators for each mode of travel that may be more detailed and robust, but for our current purposes, this calculator provides the convenience of all modes of transport in one place.*