Looking to Get Involved?
The CANIE Americas Chapter is actively seeking volunteer members to help grow, strengthen, and support the CANIE Chapter operations and the community of practitioners across Canada, Mexico, the United States, and South America. CANIE volunteers engage with the chapter leadership on advancing the CANIE mission regionally and also have the opportunity to engage in global working groups like Marketing, Climate Justice, and Fundraising
The chapter has monthly meetings to welcome new members, share best practices, and discuss how to best serve the international education practitioners in the region. Meeting facilitation can occur in English, Spanish, and Portuguese.
Share a Resource With Us!
Have a particularly helpful or insightful resource? Feel free to submit it to be added to CANIE's resource library.
Stay Up to Date
Have you registered for the CANIE newsletter? It's the easiest way to stay in the loop about what each chapter is up to and what initiatives we are prioritizing.
Opportunities for Engagement
Have some expertise you would be willing to share? These are CANIE's working groups that always welcome further insight: Marketing and Communication, Resources and Library, Climate Justice Working Group, Fundraising Working Group, Podcast Production, and more...!
Check out the work of two of CANIE Americas members!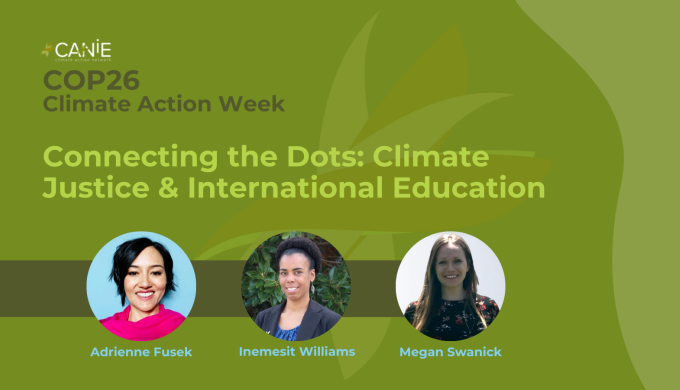 Ine and Adrienne are both on CANIE's global board and are representatives of the newly formed Americas chapter. They have been spearheading the Climate Justice working group for the last year, which considers how CANIE can amplify the urgency of initiating collective climate actions by addressing issues of equity, human rights, and historical responsibility for change within the field of international education. Past work includes a CANIE Live event in February of 2021 discussing the intersection of Climate Justice and International Education, sessions during CANIE's COP26 Climate Action Week in November 2021, and appearances on CANIE's Climate Dialogues Podcast.