How To Use The CANIE Resource Library
The Resource Library is separated into sections, as a real library might be, that correlate to the various dimensions of international education. This will help you parse through the volume of helpful information to help you take action; from research on emissions to climate justice.

We need to radically and immediately reverse course on emissions to avert catastrophic climate change. Global warming is already impacting our lives; record temperatures and more frequent extreme weather events are being seen around the world and are particularly severe in many of the main source countries for international students, and even worse in countries who are not able to access the opportunities provided by education abroad.
A Dutch site used to find international rail tickets to or from the Netherlands.
The international website for the French national railway company.
"Train travel in the UK, Europe & Worldwide..."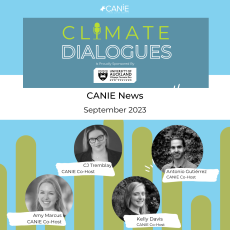 Welcome to the new monthly episodes where your CANIE co-hosts dig into news at the in…
Welcome to the new monthly episodes where your CANIE co-hosts dig into news at the intersection of i…