Why Travel With CANIE?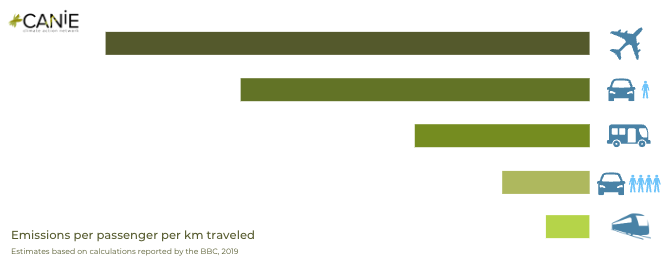 Initiative Aims:

Through this initiative, we aim to:
Reduce CO2 emissions associated with business travel

Create a community of more conscious, low-carbon traveling educators

Challenge business as usual the status quo & create behavioural change!
Current Campaigns:
Why:

Business related travel, such as attendance at international education conferences and events, as well as traveling associated with professional development comes with the unavoidable cost of high CO2 emissions associated with travel, mostly from air travel. Indeed, air travel is the most carbon-intensive mode of passenger travel.
In response, CANIE has identified the need for increased carbon awareness, carbon literacy, carbon accounting and carbon mitigation when traveling for professional reasons in the higher education sector. More and more, international professionals are looking for ways to reduce their carbon footprint. The most obvious solution is to avoid and reduce air travel and to travel by alternative, more sustainable options, as much as possible. Rethinking our professional and business travel calendar is also a possible solution to reduce our carbon emissions - do we really need to attend as many face-to-face meetings or can we combine objectives and only attend key events?

Changing your planning-a-business-trip routine may be challenging. We are here to help! Let's start with a reflection...
Business Travel Decision Tree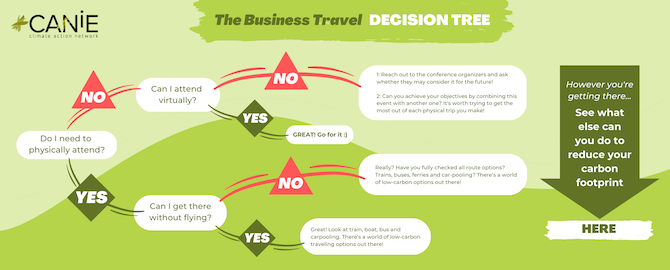 Are you joining the ever growing number of international educators who have decided to rethink their international travel needs? Congrats on your commitment and welcome!
Below are the current #TravelwithCANIE initiatives where you can partake and help us achieve our Carbon-reduction target:
Check out the previous initiatives:
Benefits of Traveling by Train
Here's a few more reasons why traveling by train is much more comfortable than by plane:

No airport security! You can spend time relaxing, reading, or working, rather than standing in a queue. You don't need to worry about liquids in your hand luggage.
No need for airport transfers - You can travel straight to the centre of a city!
Enjoy a much more diverse scenery of landscapes passing by during the trip.
Stay connected - no need for flight mode and you can usually take advantage of the train's wifi.
Often more leg room and table space. Plus you can move around the train during the trip as much as you want.
You have more flexibility and can visit other places that you pass through on route to your end destination.
Have meetings on the train with fellow international travelers. You can book adjacent seats for a group of people or meet in the restaurant coach.
Benefits of Carpooling
Carpooling has become a popular way of people making a contribution to fighting global warming. Here we share some benefits of carpooling as more sustainable by plane:
Networking / Friendships: Carpooling is a way of networking with other colleagues in your industry, creating lasting business connections and friendships making the journey not only a great business opportunity but also a great memory!

A road trip creates a great sense of adventure and fun, with shared experiences along the way, from choosing where to eat, who gets picked up where, shared learning of what is going on in your industry and the best way to maximize output of attending an event.

By taking other people with you in your car, you can also save on fuel as you can share fuel expenses with other passengers. Therefore carpooling can make sense from an economic point of view….and give you money back in your pocket!

Faster commuting through carpool lanes in some areas. Depending on your journey, you may also be able to get to your destination faster through carpooling since there might be carpool lanes that you can use if you commute with more than one person in your car.
Benefits of Traveling by Bus
Buses are more cost efficient (sometimes more so than trains!), when comparing the cost of bus tickets to plane tickets as have:

no baggage fees,
no additional trip taxes,
no additional cost to travel to airport!

Stay connected - most modern buses provide wifi access to passengers.
Opportunities to take a break: buses typically make stops every few hours to allow the driver and passengers to stretch their legs, get a snack, or refuel the bus.

If traveling with a large group, renting a bus provides more flexibility and is cheaper!
Tip if traveling in Europe: Checkout ComparaBUS, a bus ticket price comparison website.
A Few More Details...
Equating Emissions:
Curious to see what that saving equates to? Try this Greenhouse Gas Equivalencies Calculator that will help you convert emissions or energy data into concrete terms you can understand — such as the annual CO2 emissions of cars, households, and power plants - just for fun!

Ensuring Impact:
For the purposes of #TravelwithCANIE, we are including emissions that would have been air travel were it not for a choice, or institutional policy, to require a more climate-conscious mode of transportation. If the conference is taking place in your city, we encourage you to share this initiative with colleagues who are/would be planning to fly!


Perks of Participation:
Following the conference, we will provide participants of the #TravelwithCANIE initiative with a certificate outlining their contribution in reducing emissions to the total emissions reduction achieved as part of the conference. Share and encourage your colleagues to #TravelwithCANIE for their next event!
Every person who commits to reducing the CO2 emitted helps us get closer to the target. Help us reduce the emissions, one tonne at a time!

Travel Together
Find colleagues to travel with - think of it as an extension of the conference!