Looking to Get Involved?
The CANIE Oceania Chapter is actively seeking volunteer members to help grow, strengthen, and support the CANIE Chapter operations and the community of practitioners across Oceania. CANIE volunteers engage with the chapter leadership on advancing the CANIE mission regionally and also have the opportunity to engage in global working groups like Marketing, Climate Justice, and Fundraising
The chapter has monthly meetings to welcome new members, share best practices, and discuss how to best serve the international education practitioners in the region.
Share a Resource With Us!
Have a particularly helpful or insightful resource? Feel free to submit it to be added to CANIE's resource library.
Stay Up to Date
Have you registered for the CANIE newsletter? It's the easiest way to stay in the loop about what each chapter is up to and what initiatives we are prioritizing.
Opportunities for Engagement
Have some expertise you would be willing to share? These are CANIE's working groups that always welcome further insight—Marketing and Communication; Resources and Library; Climate Justice Working Group; Fundraising Working Group; Podcast Production; and more...!
Listen to two of CANIE Oceania members speak in the CANIE podcast!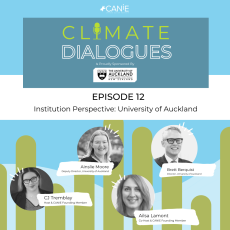 In this episode, CJ is a fly on the wall…
In this episode, CJ is a fly on the wall as CANIE Co-Founder and President Ailsa Lamont chats with l…